Community Church of Walker
A United Church of Christ

The Community Church of Walker, United Church of Christ mission is: to offer a welcoming church home to all, where friendships grow, spiritual needs are met, community concerns are addressed, and where "God is still Speaking."
Wherever you are on life's journey, you are welcome here!
We are an inclusive church where regardless of your background you are welcome and membership is not required for communion.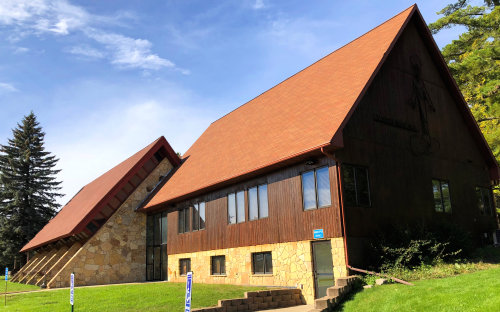 COME WORSHIP WITH US
Our Sunday Schedule:
8:30AM - Choir Practice - Canceled until further notice
10:00AM - Worship Service.
11:00AM - Join us for fellowship, coffee, and goodies immediately following the worship service.
Office Hours:
Wednesday - 1:30PM to 4:00PM
Thursday - 1:30PM to 4:00PM
CHURCH HAPPENINGS
Check back frequently for news, events, and announcements!
ASH WEDNESDAY SERVICE
February 26
7:00 p.m.
Look Here for Important Church Announcements & Happenings

Hymns for this week:
"Precious Lord, Take My Hand" All Vss. #472
"We Have Come at Christ's Own Bidding" All Vss. #182
"Called as Partners in Christ's Service" All Vss. #495
Who is the United Church of Christ?
Our faith is 2,000 years old. Our thinking is not.
We believe in God's continuing testament. This is why we are committed to hearing God's ancient story anew and afresh in our lives and in the world today. We try to remain attentive to God's creative movement in the world. Religion and science are not mutually exclusive, and your head and heart are both welcomed into our places of worship. We prepare our members and leaders to be engaged in ministry in the present and future church, and we embrace all kinds of communities and new modes of thinking. Why? Because God is still speaking.
No matter who you are or where you are on life's journey, you are welcome here.
We believe in extravagant welcome. This is why we insist that God's communion table is open, not closed, and God's gift and claim in baptism are irrevocable. We advocate justice for all. Our congregations extend hospitality as a sign of God's inclusive love. We teach that evangelism — offering bread to those in search of it — is God's mission. Our perspective is global, not provincial. We work with — not against — people of other faiths. Why? Because God is still speaking.
Never place a period where God has placed a comma.
We believe the church's mission is to change lives — individually, systemically and globally. We work to make transformation possible, but trust in God's grace. This is why we insist that churches must be places of vitality in worship, learning and advocacy. We are committed to working for justice, and we believe that lives are changed through global experiences and friendships. Why? Because God is still speaking.
Worship with Us:
Sunday Services:
8:30 a.m. - Choir Practice (Canceled until further notice)
10:00 a.m. - Worship
11:00 a.m. - Fellowship, Coffee, & Snacks
Office Hours:
Wednesday - 1:30 to 4:00
Thursday - 1:30 to 4:00
Get in Touch:
Address:
1100 Minnesota Ave
Walker, MN 56484
Phone:
218-547-1093
Email:
Pastor@UCCWalker.com